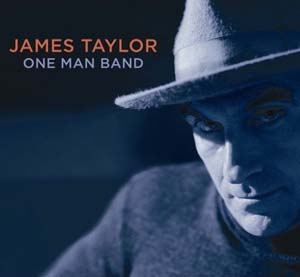 + Hey, if you plan to motor west, exactly to West Hollywood, CA, around november 28-30, you better try to get tickets to see this man,
James Taylor
and long time friend Carole King at the legendary
The Troubadour
. Oh, boy, I wish I could be there!.
+ Do not get fooled by his hat. The man is as bald as myself. James is already about to jump to 60, but believe me, his musical abilities are at his best.
+ James just released a wonderful set of CD/DVD for those of you that still sing
fire and rain
,
you've got a friend
,
shower the people
, and so many others. The title of the set is funny.
One man band
. But the guy is not playing alone. Almost. But, he's supported by keyboardist Larry Goldings, whom Taylor calls his "one-man band" in the liner notes. The album, recorded at the Colonial Theatre in Pittsfield, MA during July 2007, is an intimate and predictable one. This is my opinion, of course, but it looks to me that Taylor is playing his songs more about the same way all of his life. Is this a capital sin? No, please!, it is a trademark. Think about Dylan! or Atlantic City in the Live in Dublin' Springsteen records.
+ I know, you want some music:
*
Shower the people
(with The Dixie Chicks).
*
Fire and rain
.
*
Sweet baby James
.
*
You've got a friend
.
*
Handy man
.
*
Carolina in my mind
.