+ You know these guys, the only thing you have to do is listen to the music. Well, in this case, dance to the music!
+ It was almost 4o years ago today. Sylvester Stewart was about to win his place in rock history, together with other hippys in San Francisco's summer of love. Oh, boy, they probably wouldn't wear flowers in the hair, but I can tell you that his and his group clothes very well reflect that sunny era. His songs also!
+ They are not very well known in Spain, but every rock connoisseur has to remember them as a wonderful surprise in
The Festival of Woodstock
. The band performed their set during the early-morning hours of
August 17
,
1969
. The movie was of course seen in Spain later!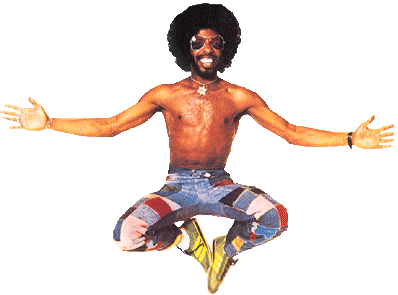 + There was a time where Motown sound was going to be replaced by something we can call psychedelic soul. Listen to Life to know what I mean. Even The Beatles's infectious Obladi, Oblada is there!.
+ Visit and learn the
history of Sly and the Family Stone
.
* Listen to
Life
.
* Listen to
Fun
.
* Listen to
I Want To Take You Higher
.
* Listen to
Stand!
* Listen to
Dance to the music
.
* Listen to
Everyday people
.
* Listen to
Everybody is a star
.
+ If you are interested, visit the
link
or your favourite record shop!